Pallottine Center hosts Veteran-led Disaster Recovery Team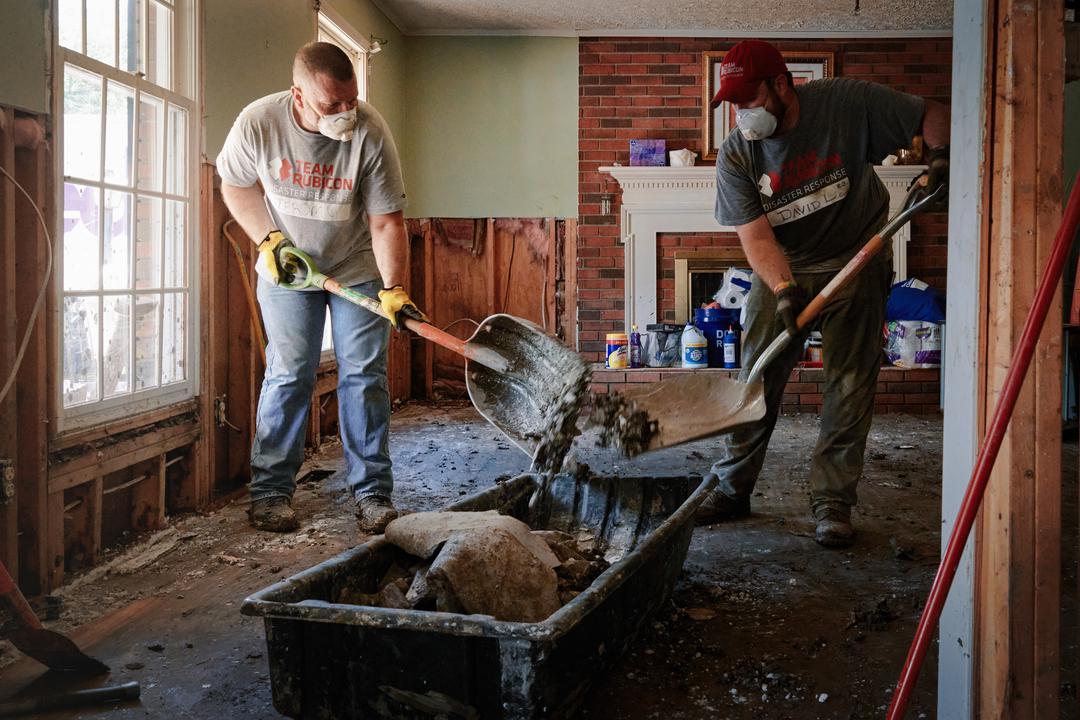 Team Rubicon, a national veteran-led disaster-relief organization, dispatched one of its North Branch teams to St. Louis on Aug. 1, and the group's home base was at Pallottine Renewal Center. For 16 days, the team's Operations Center coordinated St. Louis metro area recovery efforts from the St. Vincent's Conference Room at the retreat center's campus. The team included 24 people from 11 states including Kansas, Oklahoma, Tennessee, California, New Jersey, Florida and Massachusetts.
"Our recon team heard about this place from a local YMCA so we reached out to see if we could make it work," said Carol McCoy, Team Rubicon incident management staff. "And it was amazing. Once we saw the place and the accommodations available to us, honestly our only concern was spoiling the team for the next op. This is the Taj Mahal compared to where our teams typically stay."
St. Louis area residents in communities such as Ellenwood, University City and Ferguson received help from Team Rubicon; as of Aug. 10, more than 40 homes had been served. In flooding conditions like many in the region suffered, the main task is "mucking out" the damaged and saturated materials from the residence.
"St. Louis proper has done an incredible job in helping us get stuff done," said Carl Adams, Incident Commander from Indiana. "They've provided dumpsters and heavy equipment to haul off materials, and that makes the job go faster. That, in turn, allows us to help more people and that's why we're here. It's all about hope. People just don't know what to do next."
According to Pallottine Executive Director Marillyn Webb, this unique opportunity to house Team Rubicon's veteran-led teams is exactly what PRC wants to be for the military community in North St. Louis County.
"One of our goals is to be a veterans hub in North County," said Webb. "The experience we had hosting Team Rubicon is a perfect example of how we want to be available to serve our veterans as well as the community. It was a win-win-win all around."
Team Rubicon, started in 2010 after the 7.0 earthquake in Haiti, recognizes veterans' unique combination of training, spirit and experience to serve communities large and small across the globe before, during and after natural disasters. That heart to serve dovetails perfectly with the Pallottine Retreat & Conference Center's mission to be a place of hope and renewal.
Pallottine Retreat and Conference Center, set on 83 picturesque acres in North St. Louis County, offers guests a wide variety of meeting spaces, overnight accommodations, a heated pool, a gymnasium, low ropes course and two private retreat houses. The center is a Catholic-owned non-profit organization, but it is ecumenical in nature. All are welcome at Pallottine.