PALLOTTINE GROUNDS
Pray ~ Play ~ Meet ~ Greet
Pallottine Renewal Center is on 83 private acres. We have the look and feel of the country yet are within the boundaries of St. Louis County. Our beautiful entrance drive begins to take you away from the hustle and constant connectivity of your world.
We offer an outdoor patio that overlooks a wide open field of green. This can be set up for an evening social or afternoon barbeque.
Fire pits are located on the patio or we have a large fire pit set up for a great night of fun.
Enjoy walking trails around our many fields or back in our woods which are made of Karst property.
Throughout the grounds many picnic tables are available for small group discussions and benches for private meditation.
HISTORICAL COLD WATER CEMETERY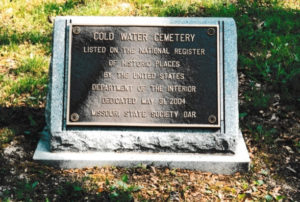 This beautiful restored cemetery in North St. Louis County, Missouri is located next to Pallottine Renewal Center on a round wooded hill, surrounded by deep woods and shaded by ancient oaks and walnuts. It is a short two block walk down a gravel road adjacent to the Pallottine campus.
Cold Water Cemetery is probably the oldest existing burial ground of the American Settlers who came west of the Mississippi River, when those lands were still under the rule of Spain.  It was, first, the Patterson family burial ground, and as it served the neighborhood, it finally became Cold Water Cemetery. The historic cemetery is considered to be the oldest Protestant Cemetery still in use, west of the Mississippi River. On November 3, 1963 the cemetery was officially given to the Missouri State Society, Daughters of the American Revolution. On accepting this unusual gift, the MSSDAR assumed the responsibilities of its future maintenance and of bringing to it the recognition it deserves in the history of America's Westward Expansion. Factually the first known burial at Cold Water Cemetery is that of Keziah Patterson, first wife of John Patterson Sr., Revolutionary War Soldier, in 1809. Also buried in the cemetery are soldiers who fought in the American Revolution, War of 1812, Mexican War, the War Between the States, Spanish-American War, and World Wars I and II, Korean War and Vietnam War. For more information about this cemetery visit www.cwc.mssdar.org.