March 2021 News & Notes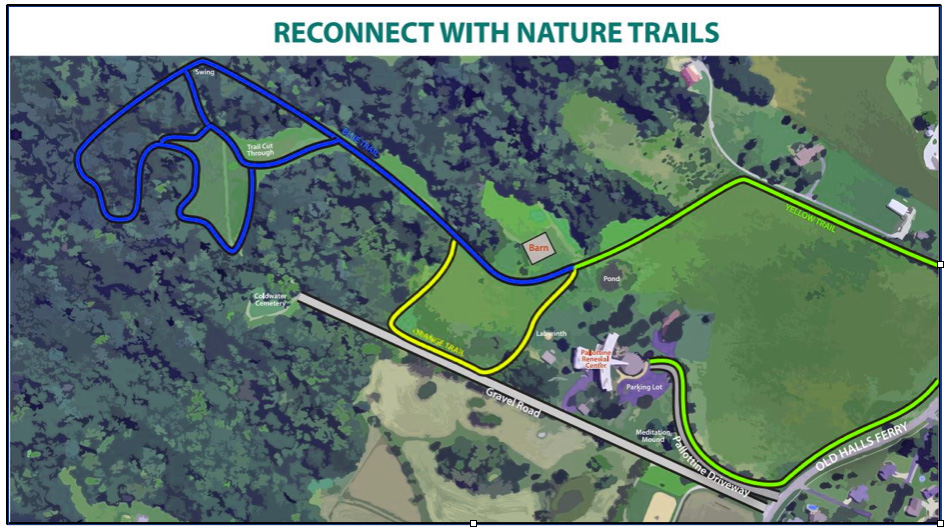 News from Pallottine
It's About People, Not Technology.
Like millions of other nonprofits, 2020 was difficult for Pallottine Renewal Center. It was difficult for everyone. For most of us, once the first weeks/months of the pandemic passed, "shock" became "functional adaptation."
As the proverbial adage states, It is through difficult times in our life, that we are challenged to grow.
By working together with our retreat leaders, we at PRC eventually adapted with flexibility to the demands Covid precautions imposed upon our usual routines. We learned solid lessons…..and we were reminded how interdependent we are.
We celebrate the fact that a PRC retreat/event offers an opportunity to unplug from day-to-day distractions. Our bedrooms have no televisions, our grounds are far from urban noises and most retreatants tend to give up their gadgets once they arrive. We create a space that gives individuals the freedom and blessing they need to truly disconnect and decompress.
However, in 2020 as we and our retreatants became reliant on video conferencing to connect, we began to realize that we were going to have to upgrade our digital capabilities to meet the need of the post-pandemic normal: a wide spread embracement of hybrid communication as a standard option. Our experiences holding Zoom meetings and retreats demonstrated the need for 'universal' high-speed internet access. In December 2020 we had 21 wireless access points installed in order to run the latest superfast Wi-Fi 6 in all areas of the campus and installed a new firewall as well.
Our December HEC retreat was hybrid. There was a small group on campus and many Zoomed in. Everyone was elated to be able to see each other, pray together, laugh, dance… even if only virtually. Michael Goad, a HEC retreatant participated virtually this year. In his talk, he shared how grateful he was to have the capability to connect digitally. His family lives in other states and he usually travels several times a year to see them. In 2020, he was isolated and alone in St. Louis but with Zoom, he 'saw' his family more than ever through virtual family game nights and Zooming with members that he hasn't seen in years.
In the end it is about people, not technology.
From Our Sponsors
Hello! I'm Patti Alvarez, the instructor of SoulCore classes at Pallottine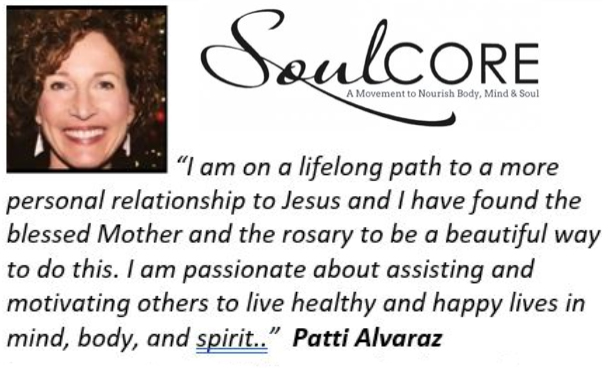 A little bit about me:
I am a cradle Catholic, born and raised in North County. I am a wife, a mother of three and a grandmother of two. In 1982, after receiving my BA in Biology from University of Missouri, my husband and I moved to Ann Arbor, MI where he attended  the University Michigan Medical School I worked as a Medical Research Assistant in the Oncology Department at the University. We moved back to St. Louis in 1987 and I spent the next 15+ years as a stay at home mom. In 2006, I became a fitness instructor and in 2008 a Health Coach.
In the fall of 2018, a friend and fellow Catholic introduced me to SoulCore. I loved it. I quickly became certified and in 2019 started teaching SoulCore at St. Norbert Church where my husband and I have been parishioners for over 30 years. In the summer of 2020, I started teaching classes in the beautiful chapel at Pallottine Renewal Center.
SoulCore because it combines the prayers of the rosary with core-strengthening, stretching and functional movement. It is a sensory experience, with candlelight and music, providing the opportunity to nourish body, mind & soul, while contemplating the mysteries and fruits of the rosary. Based in Christian meditation, SoulCore focuses on the life of Jesus Christ. It is about filling the mind & soul with the life, virtues and Word of Christ. Our Lady's desire is always to lead us closer to her son Jesus. As a Marian apostolate, SoulCore imitates her in striving to draw others closer to Christ through deeper reflection on his life and virtues in the rosary.
SoulCore classes at Pallottine are
Mondays 6:00-7:00pm and Wednesdays 9:30-10:30am.
Suggested donation is $5.00 per class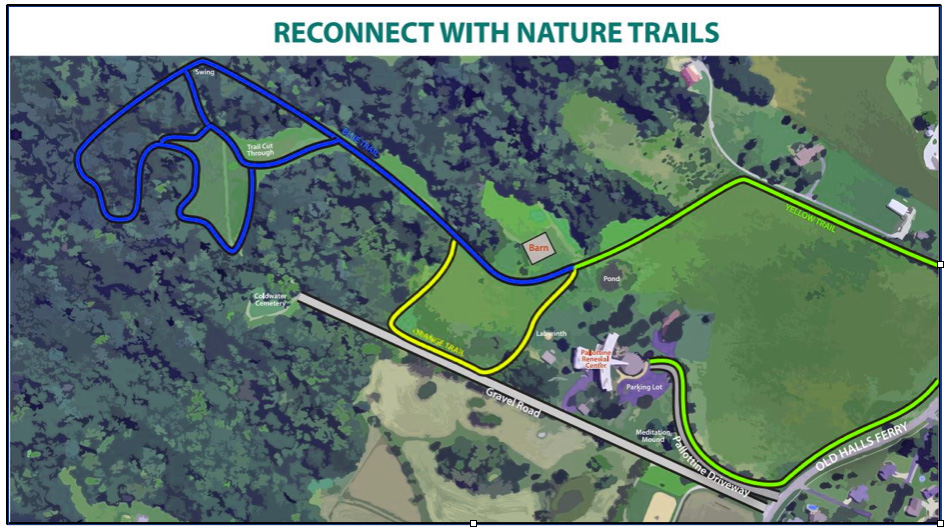 RECONNECT WITH NATURE AT PALLOTTINE
Did you know that Pallottine Renewal Center has several miles of walking trails on the property?
In 2020 our visitors starting taking advantage of the outdoors to meet and relax more than ever before, so we put assembled a map. We provide copies of the map in the front lobby so people can just grab one and take it with them while they are walking.
The Blue trail runs through our beautiful karst landscape and is the longest. We have seating at various locations on the trail for resting and reflection. The Green trail lines the fields and is in full sun….good for walking in the cooler weather. The Orange trail is perfect for a quick jaunt to stretch the legs after a big lunch or in between workshops.