April 2021 News & Notes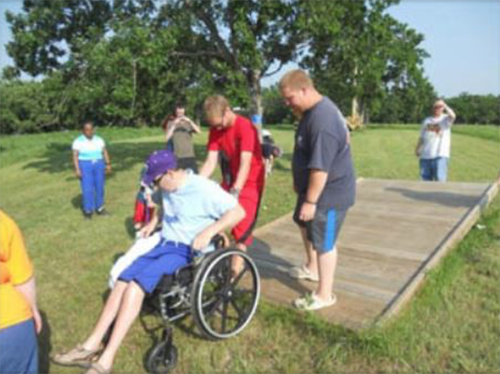 by Marillyn Webb
Valuable and Unique Program Coming to Pallottine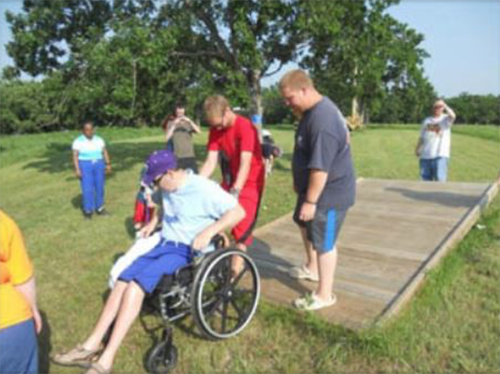 Pallottine Renewal Center is the perfect place to renew and refresh our connections to each other, and to rejuvenate the emotional and spiritual well-being for everyone in our community. To that end, Pallottine's board and staff are pleased to introduce a new and unique service for our community.
Pallottine is in the process of establishing a low-ropes course on our beautiful 83-acre campus. A low ropes course is a challenging outdoor personal development and team-building activity which consists of low elements that take place on the ground or slightly above ground. The skills course will invigorate and renew participants, foster personal development of character, build communication and conflict management skills, develop
team collaboration, and enhance essential leadership skills.
To complement the great new all-inclusive playground being built at Manion Park in Florissant, Pallottine's ropes course will have two stations accessible for those with ability needs, making this a valuable and unique course in St. Louis.
The ropes course will be beneficial for a variety of groups in the region.

Helen S. Kornblum, M.D., with SSM St. Mary's Hospital and the core faculty and associate program director for the Internal Medicine Residency Program, said that a core element of residency training is learning to embrace this discipline and understand the application of multidisciplinary teams to quality patient care. Teamwork is a fundamental aspect of
residency training.
Kornblum said that team-building activities in a ropes course program present an extraordinary opportunity for her team of residents, providing the opportunity to get to know one another and learn how to deeply connect, actively listen and work together toward a common goal.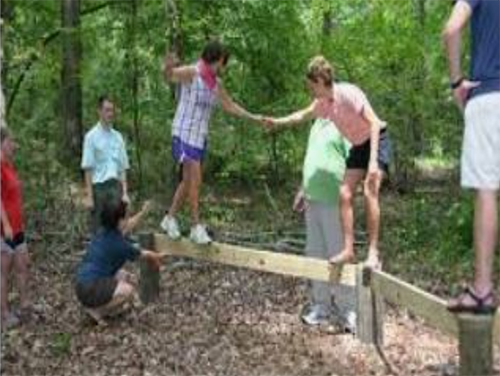 "Discovering these hidden abilities and weaknesses are a great objective of team-building," Kornblum said. "This not only allows the residents to learn new things about each other, but it also identifies areas of strengths and weaknesses to enhance personal insight to further accentuate learning and growth opportunities."
The Pallottine Renewal Center ropes course will appeal to and be beneficial for Picture used with permission of The Hopkins Foundation in Emporia, Kansas ,k,k,.
Picture courtesy/permission of Hollie Terry, director of School Programs, Alabama Wildlife Federation.
various types of groups, from adult to the youth in our community.

As a teacher and elementary school principal for more than 30 years, Sandy Baner, Ed.D., took his fifth-grade children to a week of camp each school year. A low-ropes course program was a popular aspect of camp and offered more than a lifetime of memories.
"Team-building, trust, communication, leadership skills, watching out for others, pushing limits and enhancing confidence, the list is endless," Baner said. "I watched as quiet, reserved children found a voice because they were finally heard with 'the' idea after numerous not so successful attempts were tried on a ropes course station. I watched students create plans to ensure success for their physically challenged classmates. I heard words of encouragement all too seldom heard in the traditional school environment. I am excited to learn of plans to build such a course at the Pallottine Renewal Center. What a phenomenal opportunity for the community; whether school, church or business."
Corporations, non-profit organizations, health care providers, students and educators, church groups and others all succeed when everyone works together toward a common goal. Team building teaches collaboration – achieving more together than apart.
On its beautiful campus, with plentiful outdoor green space, Pallottine Renewal Center has always recognized the value of nature. The low ropes course will bring the powerful benefits of experiential learning into the beauty and peace of Pallottine's outdoor space.
Our society needs sacred, safe places where diversity is celebrated, everyone is welcome and meaningful life-changing transformation can occur. Pallottine Renewal Center is that place for our region.
We need your help to follow through on this mission. Your generous contribution supports and sustains our profound mission and ministry. For more information, please visit our website: https://pallottinerenewal.org/donate/ropes-course/
Or go directly to our go-fund-me page: https://gofundme.com/f/inclusive-ropes-course-development