Low Ropes Challenge Course Officially Opens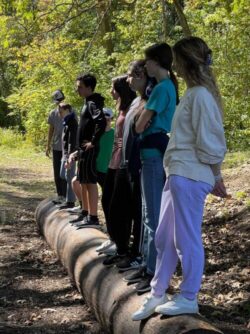 A multi-year dream finally becomes a reality this month as the Low Ropes Challenge Course opens at the Pallottine Renewal Center in Florissant. PRC Executive Director Marillyn Baner and team have worked to bring this vision to life over the past several years, made even more critical by the 2020 Covid Shutdown and people's inability to get together publicly. With those fears and restrictions now behind us, it is the perfect time to open the course to the public.
"I am beyond thrilled that we are finally able to provide this amazing experiential learning opportunity to the communities in and around North County and St. Louis," Baner said. "Starting this month, we are taking reservations for groups of all shapes and sizes, from 10 to 100. Call us to schedule a tour and see everything Pallottine has to offer from ropes to retreats."
Pallottine staff, with the full support of the Board of Trustees, has planned and built the multi-station challenge course over the span of the last three years on the retreat center's 83-acre campus. Multi-station low-ropes courses such as this, rare in the St. Louis area, help participants develop communication and leadership skills and provide groups with team-building opportunities. Each station, which takes place on the ground or slightly above it, challenges participants to work as part of a team to sharpen and build collaboration and problem-solving skills.
For the four-hour experience, Pallottine provides everything groups need to complete the course (except a water bottle) including a team of experienced and fully trained facilitators. Combined, the facilitator team has more than 130 years of challenge-course experience from a variety of backgrounds including the military, scouting, corporate and education.
Pallottine's Lead Facilitator and Training Coordinator Lucia Greer has dedicated a large part of her life to learning, developing and fine-tuning experiential education. As an U.S. Air Force retired senior leader, Greer has spent decades developing teams and leaders with junior military, corporate groups and at-risk youth. And now she's making sure the PRC team is up to the task.
"People tend to be tactile learners," Greer said, "so when you combine learning about interpersonal and team behaviors with hands-on challenges, the lessons can be truly life changing."
The Pallottine Renewal Center ropes course will appeal to and be beneficial for various types of groups, from adults to the youth in our community. For example, in the medical field teamwork is essential. Helen Kornblum, M.D., with SSM St. Mary's Hospital, believes teamwork is a fundamental aspect of successful residency training.
"To have a ropes course local not only saves time and money but also expands the opportunity to offer this to others within our organization," Kornblum said. "Teamwork, building trust, developing leadership skills, enhancing confidence … the real-world benefits are numerous."
Corporations, non-profit organizations, health care providers, students and educators, church groups and others all succeed when everyone works together toward a common goal. Authentic relationships, mindful listening and cooperative teamwork establish a culture that values connections, draws in great talent, increases employee retention and accomplishes a common goal. Those are all positive outcomes that everyone can agree on.
Our society needs safe places where diversity is celebrated, everyone is welcome and meaningful life-changing transformation can occur. Pallottine Renewal Center is one of those very places for North County and the region. Since the Covid Shutdown, we have seen the healing powers of the outdoors more clearly. This opportunity for experiential learning is a giant leap forward.
Pallottine Retreat and Conference Center provides facilities and programming for retreats and conferences that serve large and small groups, or individuals. Located on 83 acres in North St. Louis County, PRC is Catholic in identity and ecumenical and interfaith in outreach. The center serves a diverse community, promoting inclusion and providing exemplary hospitality. The facility provides large, small and intimate meeting spaces, a large chapel, and comfortable overnight accommodations. The professionalism of our staff and their commitment to hospitality create the perfect atmosphere for reflection and renewal with the comforts of home.
For more information on the Challenge Course at Pallottine, please visit our program website Ropes @ PRC – pallottinerenewal.org/programs/ropes