Kitchen Memories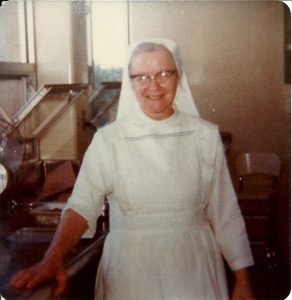 Every successful retreat house serves great food–if you want people to come back.   Not only must the food be nourishing, the entrees must appeal to  different ages.   And on retreat, appetites are ravenous–whether for the senior women's retreat or high school students.  Finally, because the retreat house operates close to even, cost of food preparation is on a tight budget.
The tradition of PRC's great food, along with good economics, was  built on the shoulders of two Pallottine Missionary Sisters:  one from Germany, Sr. Agnella Jaschke and the other from Belize, Sr. Elizabeth Monsanto.  Each brought incredible gifts to PRC and attracted people from all ages.
THE WHITE TORNADO
Sr. Agnella, the white tornado, spoke quickly with a strong German accent.  Blessed was the young sister assigned to her that understood her request the first time.  The employees working with her, loved her.  Her morning began at 6:30 a.m. Mass at St. Angela Merici, continued with morning prayers with the Sisters.  Compliments embarrassed her.  She would purse her lips, shrug her shoulders, and spin back to work. She would barely take time off for dinner and evening prayer with the Sisters, and be back to finish with the high school students doing dishes.
As far as saving money, she was resourceful.  Not one crumb would be wasted.  Her bread pudding used every last crumb of crumbled cookies.  In the summer, she would work in the garden–one year cultivating 120 tomato plants.  Each plant needed to be hoed around regularly to break up the hard dirt to allow watering.  In the evening, that is where you would find Sr. Agnella.  As the tomatoes ripened, she would begin to can.  Her tomatoes lasted the Sisters and the retreatants until the following summer.
Nancy Haley  worked with Sr. Agnella until Sister retired in the 80's.  She then teamed up with Sr. Elizabeth Monsanto. A new era began.  Nancy seemed to be always part of us; and her retirement was a sad day (for us).
MAMACITA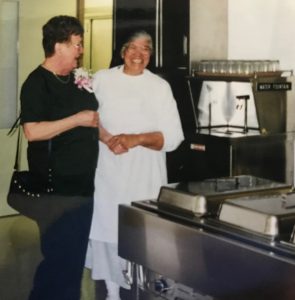 Sr. Elizabeth grew up in a large family in Belize City, Belize.  She entered the Pallottine Missionary Sisters in her beloved country; yet, God found a way to bring her to the States.  She came to PRC in the early 80's and first began helping Sr. Agnella.  When Sr. Agnella was transferred to Huntington, to be with our young Sisters in a new residence, Sr. Elizabeth took charge of the kitchen.
Her warmth and openness is an attraction in itself.  The high school students who worked with her saw in her a second mother.  Over time, her duties increased to include director of high school retreats.  Many a student found a connection to their loving God through her.
She has a special connection to the Friends of Pallottine, an auxiliary group who raised funds for PRC.  Together, with Sr. Bernadita Peterson, director of PRC, they put on amazing events:  Mother Day luncheons and fashion shows, Galas, bazaars, and pancake breakfasts.  She kept the tradition of Pallottine cookies.  Every Christmas she would bake dozens of holiday cookies and give them to friends and Sisters.
Holidays with the Sisters are special.  Community members worked with Sister to prepare the table and do final touches.  Thanksgiving and Christmas dinner brought back memories of home, and Sister worked hard to ensure that no special food was missed.  She prepared special prayer services, and the tradition of Las Posadas was incorporated into our prayer life.  This is a reenactment of Mary and Joseph finding a room at the inn. So, Sisters would prepare their bedrooms in a way to welcome Mary for the night.
Sr. Elizabeth resides in Huntington, WV–where cooking is still an enjoyment and sharing her food with the Sisters a pleasure.