Deer Me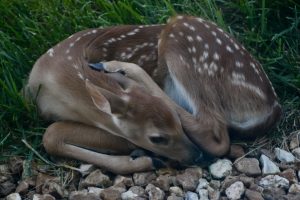 BE STILL AND KNOW I AM GOD
In the late 1980's, Cold Water Cemetery put up new wrought iron fencing around their property.  The aesthetic, black wrought iron fence is beautiful, but a danger for deer.  Deer do not have peripheral vision and cannot see the iron bars–just the space in-between the iron.  Unfortunately, deer would go through the fence and get stuck at their pelvic bone –leaving them mortally wounded.
At the time, the Sisters owned a black beagle/cocker spaniel mix–Ginger.  She was the mascot of PRC.  Sisters and employees took turns walking her, and a favorite trail was Cold Water Cemetery.
During this walk to Cold Water with Sr. Gail, Ginger began yelping when she made the scent of three deer  inside the enclosure.  One deer leapt over the fence–a feat in itself;  the second came out through the gate.  Stuck in the iron fence, the third deer could not get through.
Sr. Gail grabbed Ginger and carried the pup back to PRC and to get help.   Upon arriving, the office staff (Tina Murphy and Collette Vorwerk) called animal resources.  The first phone call abruptly ended when animal control said it would dispatch someone to put the deer out of her misery.  The second call to the humane society promised help.  Sr. Gail went back to the stranded deer, grabbing the yearlings front hooves to keep the deer from hurting herself.  For 45 minutes,  Sister held the front hooves of the frightened animal.  Even though both Sister and deer had their hearts pumping, this became a sacred moment.  Life is so fragile.  The beauty and strength of the deer was so palpable.
SEE, I HOLD YOU IN THE PALM OF MY HAND
We never know what the day holds.  Yet, God holds us in his loving hands.  Sister Gail may be holding the doe, but God holds all things and everyone.
The humane society representative widened the space using a tire jack, and the deer was "wheel-barreled" out.  Without a glance backward, she made for the wooded area and the rest of us returned to ordinary time.