"Welcome Neighbor STL" Syrian Dinner – February 29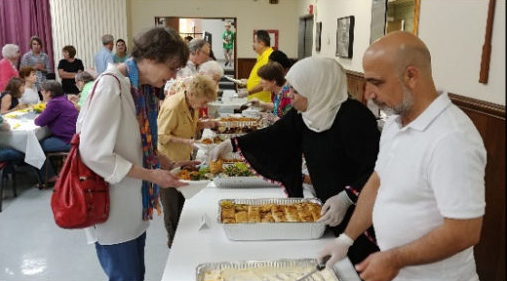 "Welcome Neighbor STL" Syrian Dinner
Saturday, February 29, 2020, 6-8pm
You are invited to a Welcome Neighbor STL Supper Club dinner to support refugee families recently settled in our area. Enjoy food, conversation, and catching up with friends – old and new. From cultural exchange to just plain fun, look forward to a great evening.
These meals present an opportunity for immigrant families to share knowledge and skills unique to them. It is also an opportunity for us to get a glimpse into their culture. These fundraising efforts can set them on a path of greater independence and confidence in their lives here in in the USA.
When you attend a Welcome Neighbor STL Supper Club, your meal will be prepared by immigrant neighbors who will share their culture and cooking skills by providing a table full of traditional food from their country of origin.
The suggested donation for the meal is $25.00, and reservations can be made HERE
Menu
(Guests choose between meat or vegetarian entrée*)
Shawarma – Chicken, mayonnaise, and pickles, wrapped in pita bread (meat entrée)
Maqluba – "Upside down" rice with eggplant. (vegetarian entree)
Hummus – A dip made of chickpeas, garlic, lemon, tahini, and olive oil. Served with pita bread.
Yalanji – Grape leaves stuffed with rice, Mediterranean spices, and lemon juice.
Tabouleh – A finely chopped salad made with parsley, lettuce, tomato, cucumber and bulgur. Mixed with lemon juice and olive oil.
Baklava – A rich, sweet dessert pastry made of layers of filo filled with chopped pistachios or walnuts and held together with honey and sugar syrup.